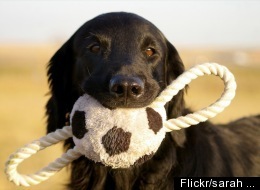 Feeding your pet homemade pet food,either raw or cooked, is really the most ecologically sound way to feed them. It's also much better for their health, although it is quite a bit of work. I have been feeding my three cats a homemade diet for several years now, and they act like cats half their age (they are 13). I have written about this subject extensively on www.catchat-ama.blogspot.com.
Read the Article at HuffingtonPost

I left this comment a couple of days ago on the Huffington Post in regards to the article title referenced above. I noticed a little box to check that said something about sending the comment to your blog...and voila! Pretty neat, eh? Not exactly a backlink, now, but still a plug for Cat Chat--and a cute dog photo, to boot! I learn something new everyday doing this blogging thing!
Chat later!